According to MAVIR the Hungarian national power grid operator the spring solar production record was broken on October 4th. Industrial-scale solar producers accounted for more than a quarter of Hungary's electricity generation, 26.27 percent, in the quarter-hour of the southern peak on October 4, setting a new production record. The previous record on April 16 was 22 percent. According to net trade settlement data, together with imports, 22.61 percent of the national gross system load was provided by solar energy producers. The combined capacity of more than 1,900 solar power plants in Hungary now exceeds 1,200 megawatts, an increase of slightly more than 200 megawatts since the April record.
The peak of the solar production affected the power market prices adversely, as the surplus production of the solar PV exceeded demand consumption. On the day of the April solar record, for example, there were three consecutive hours when the energy supplied was already keeping stock prices in the negative range. On October 4th prices reached 0 price levels during the day as well.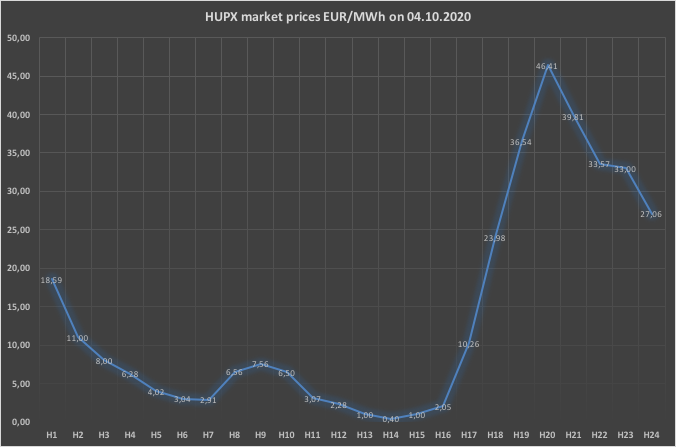 New technological challenges on the power grid
The most significant market challenge is to be able to properly involve PV in power generation in the most cost-effective way possible. This is where the importance of balancing and storing the electricity produced comes into play. As the storage of electricity is still an unsolved problem, demand-response tariffs force power generators to optimize their production to the extreme. Important challenges involve the split-incentive issue for investments in enabling technologies, traditional market rules for flexibility that favor large generation units and the need for electricity market and network operation coordination.
The volatile power generation and unpredictable power market price scenarios push power plant producers to implement new types of technological solutions. Enerhash contribute to optimizing power plant production, hence assist load balancing on an individual plant scale and also support grid balancing on the scale of the whole network. The idea behind our model built on load balancing is to allow power plants to monetize a positive spread between production costs and demand-response tariff.Report this